Humbled by their Gifts after Death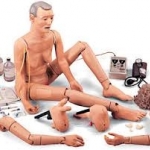 I have previously discussed the educational challenges of addressing the high acuity-low prevalence experience gap. However the article by
Schalk et al.
and my recent experience teaching our AIME Advanced cadaver program has motivated me to take this discussion further. One of the dilemmas in teaching airway is balancing the learner expectation to use the fancy equipment with the need to reinforce the broader less sexy but more important context of improving/maintaining oxygenation. Steel and polyvinyl don't save lives. In our Advanced program we initially used manikins as the preservation fluid in the cadavers made them less responsive. This time we created windows to expose a lung in the chest cavity. Wow is all I can say!!!
​Check out the videos Nick Sowers took (Chief Resident/Airway Fellow) at our last AIME Advanced Program.
Simulation has become the buzzword in medical education as safe and effective environment for learning clinical content and context. Manikins have been the primary material substitute for the patient in most simulations involving procedural interventions. They have been an educational mainstay for teaching airway management for some time. They have evolved from head and neck models to full body technologically advanced products that many refer to as high fidelity simulators. There is no question that access to this plastic is useful and necessary but unfortunately there may be times when they hinder instead of help.
After spending some time developing an airway device with a colleague we reached a stage where we had proof of concept… we could easily intubate a manikin (see video of my then
6 yr old intubating
). Interestingly to move an airway device to market there is no requirement to prove effectiveness in human tissue. It seemed crazy but true. Most if not all of the new airway devices are designed to perform well in manikins. Comparatively DL on manikins is challenging. Not only is it challenging but basic DL optimizing manoeuvres are not reinforced on most simulators. At every AIME course we have several participants who ask why wouldn't we just use device X… "it works every time and is so much easier". Of course we know that nothing is that easy and there over 7 billion variants of anatomy in the world they may present for you in need of an airway. For some device X will be best with blade Y in the hands of clinician Z. Differences demand different approaches.
Back to plastic. Currently there is no manikin on the market that does all:
Allows for opening of the airway with a jaw thrust
Will demonstrate good chest rise with 2-person BMV
Will reward best look laryngoscopy (head lift, ELM)
Will accept appropriate feedback for both tracheal and esophogeal bougie placement
Have reasonable tongue material fidelity
Will accept various SGA and give adequate chest rise
Will allow an ESA with appropriate soft tissue coverage and realistic laryngeal mobility
These life saving manoeuvres need to be reinforced to help prevent what I feel is one of the greatest threats to acute care… a loss of core airway skills. We have witnessed almost a 20% drop in first attempt success with DL over the last 10 years (when compared to registry data of close to 17,000 intubations). The new technology saviours that make airway management 'easier' are easily outperforming our deteriorating DL skills. Interestingly these 'superior' VL skills are significantly underperforming when compared to historical standards (
Safety & Laryngoscopy
).
An ignored resource has the potential to address the gap that will always exist between manikin and live human anatomy. I discovered this close to 10 years ago when Adam Law and I traveled to Baltimore though our connection with our friend Rich Levitan to test our device. We left there humbled by the variable success of our tool in real tissue but more importantly we were in awe of the cadaver experience. Surprise surprise we had discovered the highest fidelity of simulators… the human body. On return from Baltimore we supported our then Head of the Department of Anatomy and the Coordinator of Anatomical Sciences to learn what was being done in Baltimore. Ten years later the Human Body Donation Program is thriving and by modifying the preparation technique, gifted specimens retain tissue integrity for up to 4-5 weeks using what is being referred to as the Halifax Clinical Grade Cadaver (CGC) preparation. This fixation process is relatively inexpensive, requires minimal additional resources and rewards the learners with an unparalleled human tissue experience.
At the end of the day we do still need access to medium fidelity simulators that reinforce core skills. I do also believe that new technologies will add value and catch up to our historical standbys. Remember however that most of these devices have been designed and refined using plastic anatomic representations that may in fact misrepresent real life. Unfortunately the airway device learning curve can only be realized at the patient's bedside over time, a problem that could be in part mitigated by greater access to clinical cadavers. Finally it is critical to remember that procedure success needs to be judged in a broader context of clinical decision-making. This contextual learning is critical and this is where simulation has and will continue to be an important method for learning.
Having just finished teaching an AIME Advanced course using these Clinical Cadavers I feel grateful. I am grateful for the opportunity to teach and learn using these incredible gifts. Through their gift to the Human Body Donation Program, they have given of themselves for the good of others.
​
A radiographic comparison of human airway anatomy and airway manikins - Implications for manikin-based testing of artificial airways
Download in PDF